Can You Eat Food on the Optifast Program?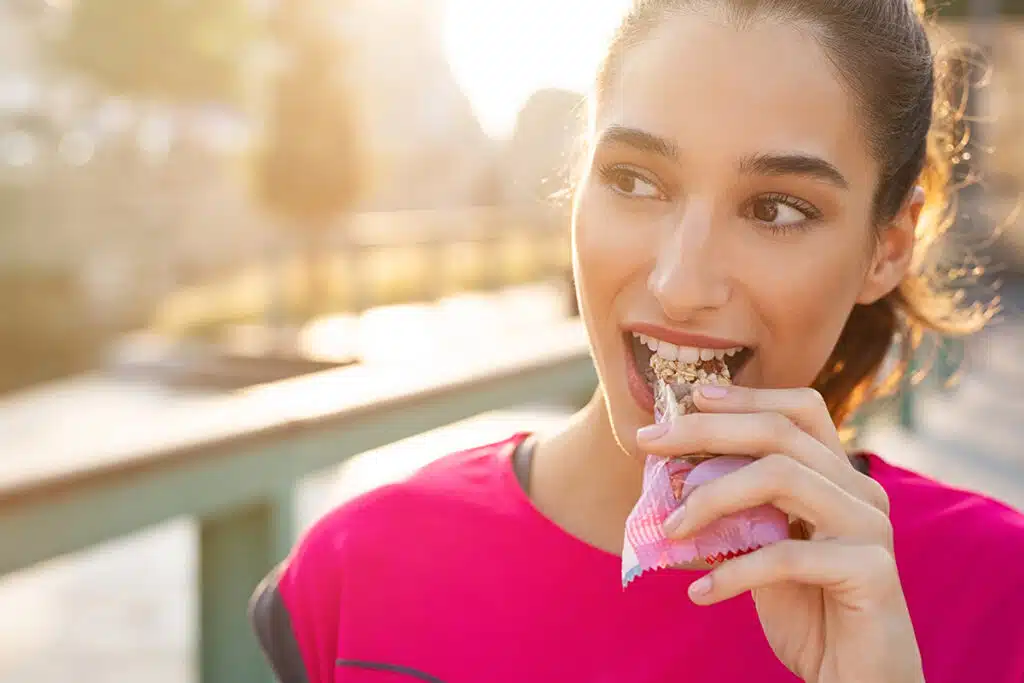 Losing weight, getting healthy, and feeling your very best is often at the top of the list for many people - though the follow-through is often tough. Under the careful supervision of experienced medical staff, the Optifast program offers the ability to finally get the weight off and transform your health. And it has been proven to be an effective weight loss solution. 
Before starting any new program such as Optifast, it is common to have questions. How does it work? And can you eat food on the Optifast program? Let's take a closer look. 
How Does the Optifast Program Work?
The Optifast program consists of different phases in which regular food is replaced with portion-controlled shakes, soups, and snack bars. It is designed to help those who are considered need to lose weight and improve their health. It is possible to lose 15-20 lbs or up to well over 100 lbs on Optifast
The program is designed to work in phases depending on the amount of weight needed to be lost. Your needs will be addressed by a medical professional throughout the entire process to ensure that you are getting the right amount of nutrition and that all your health goals are being met.
Optifast also includes a focus on nutritional counseling, exercise and fitness, behavioral intervention, and support groups. Maintaining any weight loss requires that you address many areas of life - not just what you put into your mouth. And the Optifast program understands this. 
Aside from losing weight, there are many benefits to following the Optifast program, including: 
Lower blood pressure 

Lower cholesterol

Lower blood sugar

Reduce arthritis pain

Maintain a healthy diet with all the vitamins and nutrients you need
Can You Eat Food on the Optifast Program?
Whether or not you can eat food on the Optifast program depends on where you are at in the program itself as there are a number of different phases. Regardless of where you start, the idea is to work toward returning to having normal foods as an everyday part of your life.  
Some individuals first start out on a diet that consists of nothing but Optifast meal replacement supplements. This includes shakes and soups. No other food is to be consumed if using the full liquid protocol.. How long you remain in this phase is customized for each person, but it is typically about 20 weeks.
Some individuals may start with a diet that consists of one meal containing regular foods per day - and the rest will be Optifast supplements. Again, the timeframe will be customized. 
Those who started on the full liquid diet will move to this protocol as their next step after doing the full liquid diet for some time.
After the weight comes off and you have undergone counseling and have a solid support group, the medical professionals will help you transition back into eating all regular foods without any Optifast supplements.
It can be challenging to regain control over food in a healthy way which is why support remains available for counseling, nutrition, and exercise to yield the greatest success. 
Learn More About Optifast
Are you interested in learning if Optifast is right for you? Under the professional care of the team at The Weight and Wellness Institute, you can lose weight and gain health.
To learn more or to get started, contact us today at  401-895-9937 . Or, request an appointment online.
Recent Posts
Contact Us
The Weight & Wellness Institute
1170 Pontiac Avenue
Cranston, RI 02920
Monday | 8:00am - 4:30pm
Tuesday | 8:00am - 6:30pm
Wednesday | 8:00am - 4:30pm
Thursday | 8:00am - 6:30pm
Friday | 8:00am - 12:00pm
Saturday | Closed
Sunday | Closed